Clinics & Programs 
Kids Tennis & Swim Camp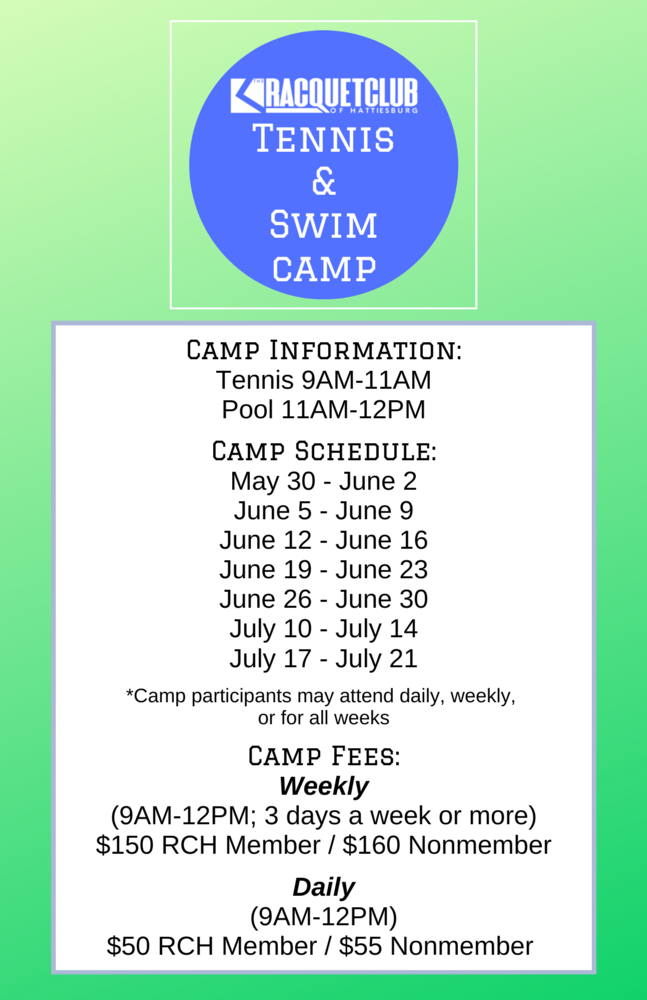 Children ages 5-12 are invited to attend tennis and swim camp at The Racquet Club of Hattiesburg. Camps run from 9AM-12PM and include two hours of tennis (9AM-11AM) and one hour of pool time (11AM-12PM). Children may register to attend the camp for a day, week, or for the whole summer. Cost per week (3 days or more) is $150 for club members and $160 for non-members. Cost per day (daily rate) is $50 for club members and $55 for non-members. Please register each child separately. Please complete multiple registrations for both monthly and daily rates if you are taking advantage of both options.
Click here to register for camp daily (attending camp three days or less).
Weekly camp registration (attending camp three days or more per week):
May 30-June 2
June 5-9
June 12-16
June 19-23
June 26-30
July 10-14
July 17-21

Learn to Swim - Swimming Lessons for Kids Ages 3-6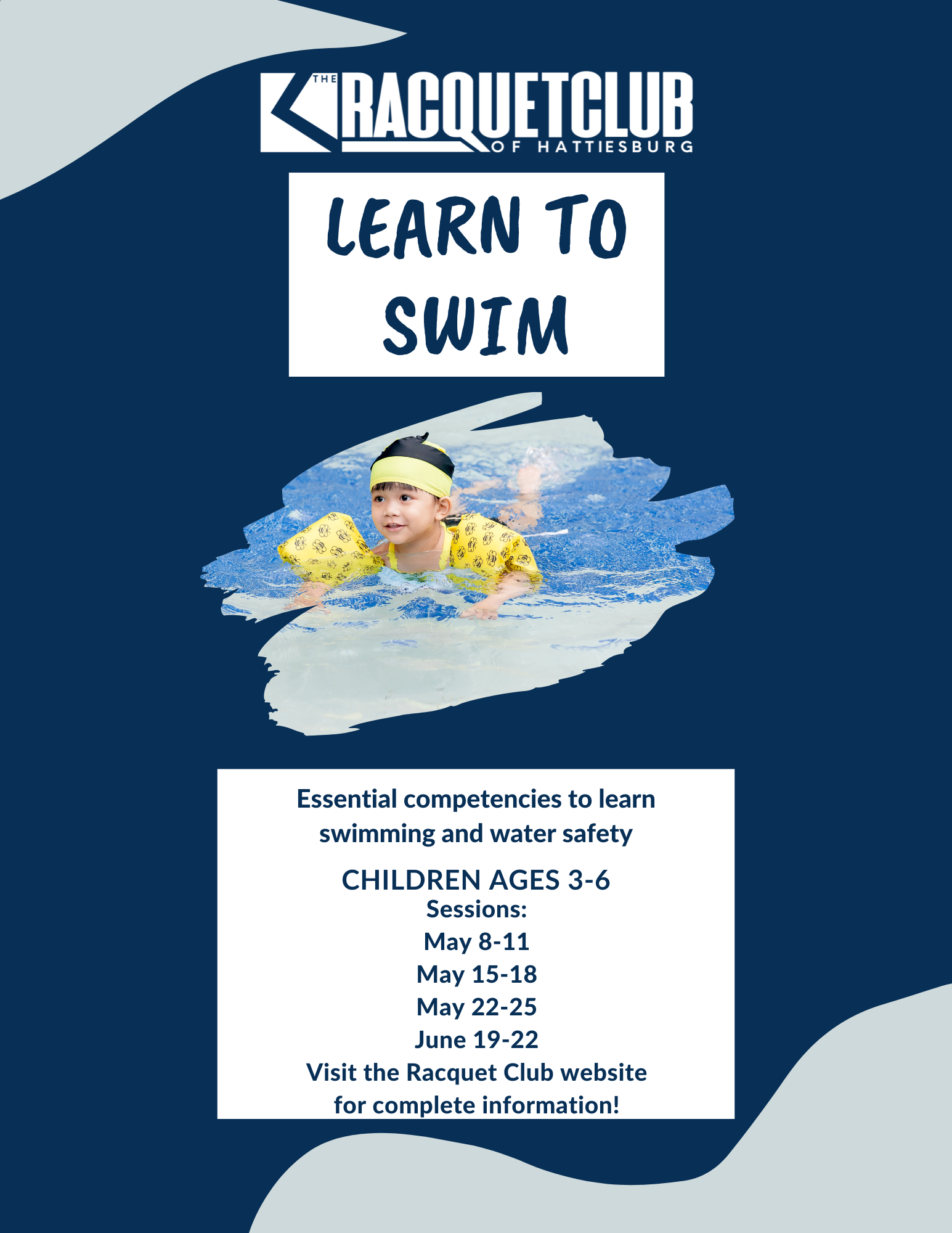 Semi-private beginner swimming and water safety lessons will offered for ages 3-6 at The Racquet Club of Hattiesburg by Mr. Sam Line. 
Lesson Format:
Parents will bring children (dressed in swim wear, sunscreen applied) into the pool area at lesson time. After 5 minutes, parents will leave or wait in the clubhouse and return for pick-up at the end of the 50-minute lesson. Parents/guests will be invited to stay and view the last 15 minutes on the final day. Participants must be potty trained, and aged 3-6.
Each child progresses at his/her own pace. We will start with bubbles/bobs, then progress to proper techniques for floating, kicking, freestyle, and backstroke--all while having FUN at the pool. In addition, a safety topic (example: feet-first entry or how to call for help) will be covered at each lesson.
NOTES: Sessions must have a minimum of three participants. Sessions that are at maximum capacity will be covered by the instructor and an assistant. Private lessons are available upon request.
Session dates (register for each session separately):
May 8 - 11 8:00AM-8:50AM
May 8 - 11 9:00AM-9:50AM
May 15 - 18 8:00AM-8:50AM
May 22 - 25 8:00AM-8:50AM
May 22 - 25 9:00AM-9:50AM
June 19 - 22 8:00AM-8:50AM
Cost per session: $150 for RCH members / $160 for nonmembers
Instructor - Mr. Sam Line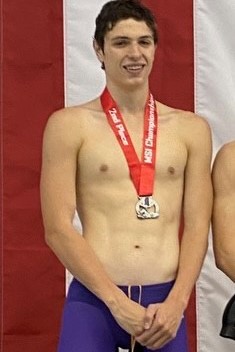 Sam Line is from Purvis, Mississippi. He has been a competitive swimmer for the past seven years and currently serves as the Senior Athlete Representative for Mississippi Swimming providing him with ample experience in both the sport and training aspects of swimming. Along with this, he acts as an assistant coach for the Hub Fins Swim Team in Hattiesburg, specializing in the training of the youngest age groups. He is an American Red Cross certified lifeguard and swim instructor who strives to instill a love for swimming in everyone he teaches as well as basic to advanced technique skills.
Adult 2.5-3.0 Tennis Clinics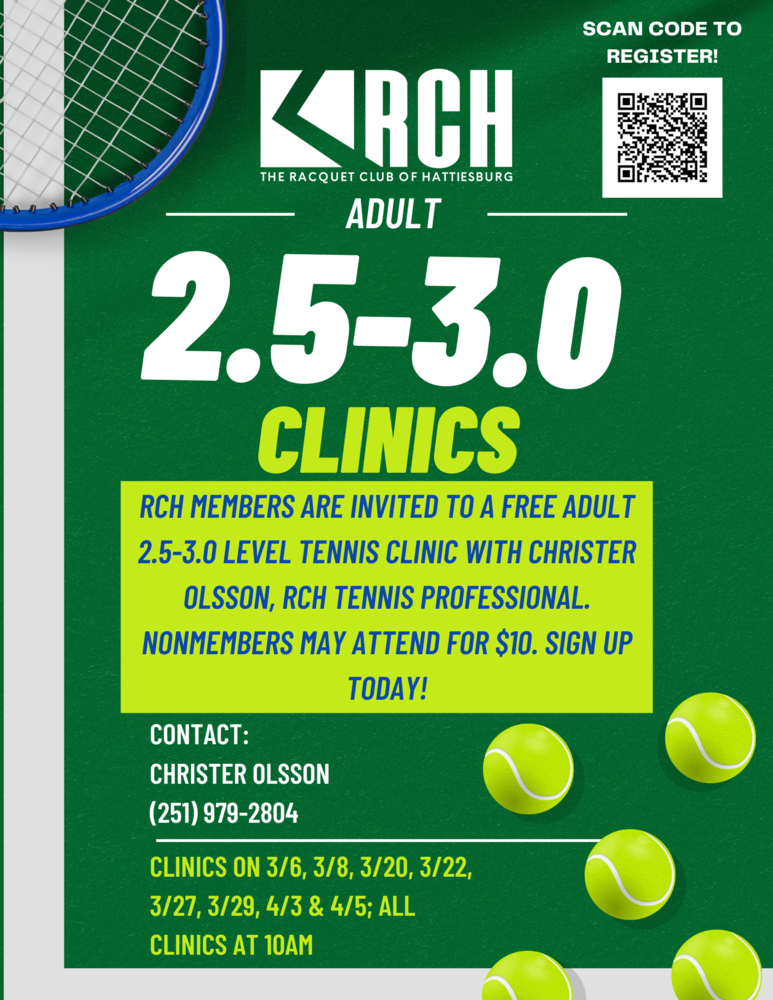 RCH Members are invited to a free 2.5-3.0 level tennis clinic with Christer Olsson, RCH Tennis Professional. Nonmembers may attend for $10. Sign up today! Each clinic is limited to eight participants. Clinics will be held at 10AM on March 6, March 8, March 20, March 22, March 27, March 29, April 3, and April 5, 2023. Register each participant separately here.